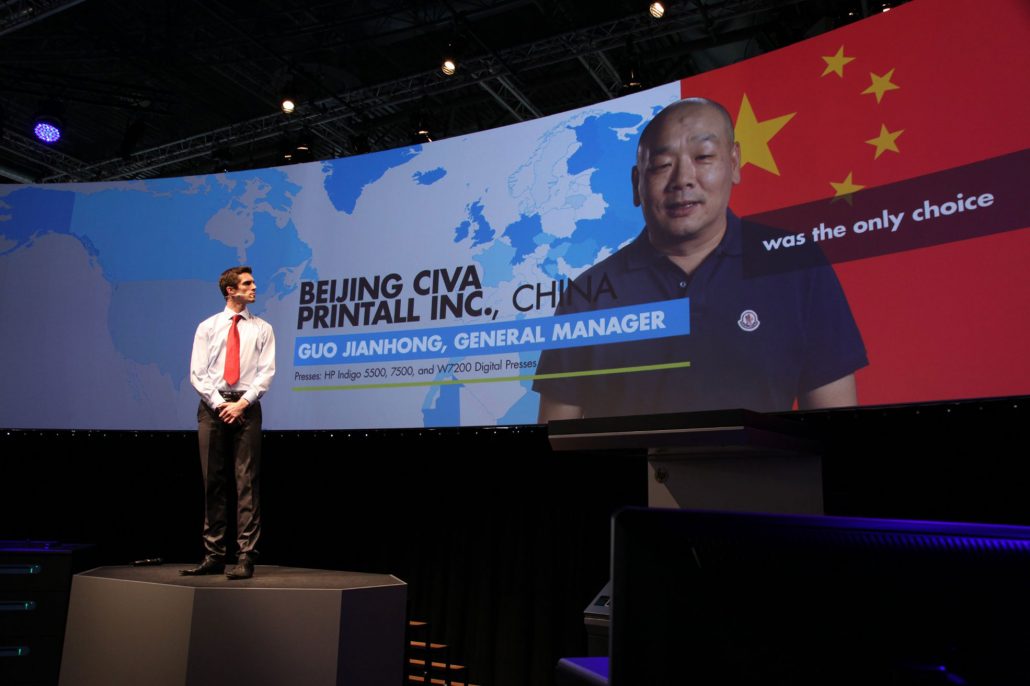 Drupa, "THE" event for the print industry, occurs only once in four years and is the best
opportunity to introduce new concepts in the industry. HP had a revolutionary product to
launch that would actually transform the way printing was done. However, it wouldn't be ready
for sale for another year. They still had to launch this year if they didn't want to wait another
four. So, at the same time as they were launching this product, they still needed to sell their
current product. One of our biggest challenges was the audience: this industry is rather
conservative and is not accustomed to innovation.
Another challenge for us: HP chose to work with us on their first event after Benny Landa, their
founder, left the company. Renowned for his outlandish stunts and exhibitions, he was credited
for keeping the company on everyone's lips. Being selected was an honor, but we had big shoes
to fill.
We opened the show with the current product, complete with a live demonstration. In this way, we positioned the company as successful, with industry leading products and results that the audience could see with their own eyes.
An actor on the  stage interacted with the large multi media screen in the background, explaining the products. The second actor was in the audience as a potential "client", asking the difficult questions the audience may have wanted to ask. Having a "spokesperson" diffused the audience's possible criticisms and led to a more open-minded audience when presenting the product itself.
Then, we dropped the bombshell, introducing the new product that would shake up the industry. In order to clarify that the new product was pre-launch, it was introduced on screen by the product manager, still working on the development.
Due to this arrangement of the show, the audience was able to recognize HP's market leadership with current products, and garnered trust when introducing the revolutionary product.